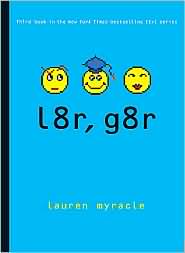 I read the book l8r, g8r by Lauren

Myracle

. It is about three best friends in their last semester of high school. They deal with boy troubles, a mean girl at school and college anxieties. The book is written entirely in instant messages between the three friends. I like this book, it captures the real high school. It also shows how your really close friends can help you through tough times. I

recommend

this book if you would like a good read about good friendship.